Our selection of urban furniture
TimberNest designs and produces social furniture in quality wood from danish forests. Our urban furniture has been developed to spark activity and build community at festivals, in parks, shopping streets and other outdoor areas. We prioritize quality and durability so that our products can spark joy with our customers for as long as possible.
TimberNest has developed a genius product that disrupts the digital trends of our time and creates a different and engaging setting for building human relations. The materials, the aesthetics and the craftsmanship is defined by our strong Nordic design tradition - and at the same time the furniture send a clear message about social and environmental consciousness. TimberNest is an attractive investment for organizations who wish to reflect the times and invite new relations between people.
Christian Bason
Director for Danish Design Center
In the summer of 2021, we rented 3 TimberNests for the city square in Slagelse, where they've had a great impact on creating a vibrant square at the benefit of the city's shops and local businesses. The furniture brings a new expression to the city scape and creates a backdrop for play and social time across generations. We chose to buy the furniture once the rental period expired. The service which Kristian and the rest of the team provides, is sure to make us come back.
Helle S. Madsen
Event Coordinator with Business Slagelse
I'm so proud and happy with my TimberRest. The production and communication of TimberNest furniture is exactly what I perceive sustainability, presence, authenticity and respect to be. I'm proud to have contributed to sustainable purposes. That counts everything from materials to the approach to production of the furniture. We are looking forward to sending you new pictures with our TimberRest, as it has inspired us to redo our garden.
Kis Østergaard
On one hand, TimberNest is a completely ordinary piece of furniture, but on the other hand it is a new invention that puts all senses into play, when you sit down - unlike when you sit down on an ordinary bench. TimberNest facilitates interaction with your loved ones, who might sit across from you - and sometimes also the interaction with strangers.
Mette Sorang
Children's Welfare Coordinator at Odense University Hospital
At True North we know that movement is an important prerequisite for learning and spending time with others. Our students love TimberNest, because there are many ways to use it. It moves and you can sit many or a few on it. TimberNest has an urban expression and is a natural hangout spot for our students, when they're outside. It's our experience that our students spend more time outside after we've acquired a TimberNest for our garden.
Leif Kristensen
True North School
We've made an innovative product-as-a-service agreement with TimberNest, where we explore new ways to advance the important transition towards a circular economy. The cooperation with TimberNest has been exemplary in this regard.
Torben Gade
Project Manager at Marina City in Kolding Municipality
See how our urban furniture is produced
Wanting to become a sustainable business, is part of our DNA and the way we operate. We continuously try to reduce our negative impact and increase our positive impact.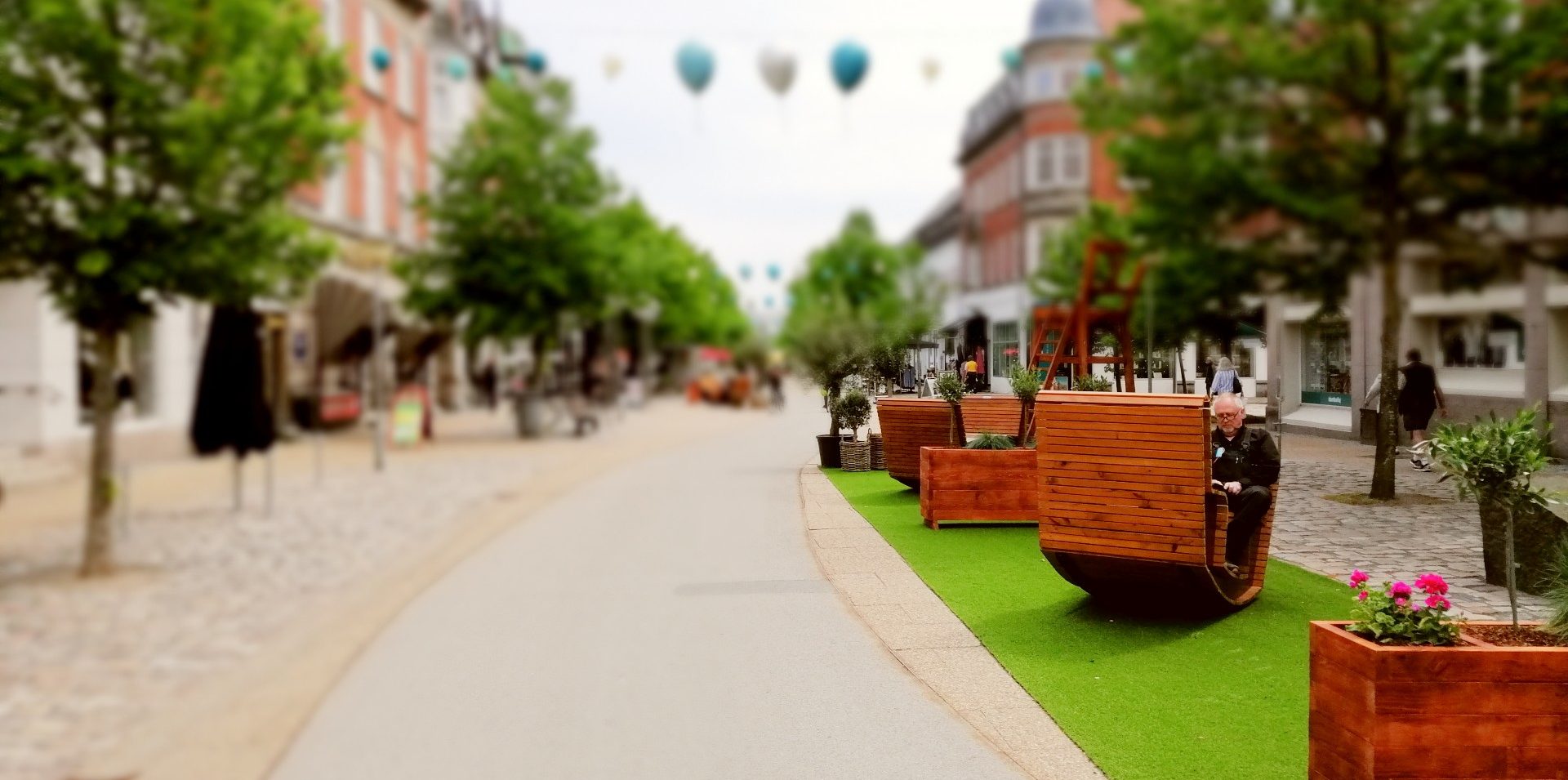 Green spaces in Hjørring City Centre
In the summer of 2021, Business Hjørring rented 10 TimberNest for the main shopping street. The urban furniture was part of Summer City Hjørring, an initiative aimed at creating happy summer memories and promoting local business after a year and a half with covid-19 lock downs.
Social furniture lights up Roskilde ´19
In July 2019, we rented out six festival friendly TimberNests with LED lights for Roskilde Festival. The furniture was supposed to create a social atmosphere both during the day and night. The lights were battery driven, so the festival still had the opportunity to move the furniture around.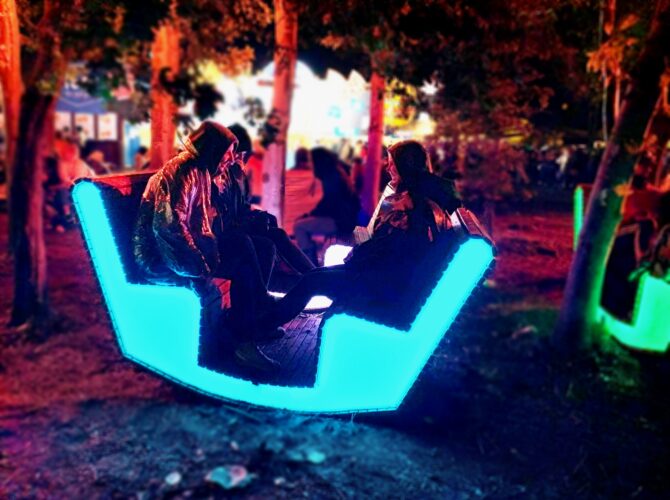 Let us do the work for you
Maintenance and sustainability goes hand in hand. We produce urban furniture that lasts long, but you can extend the life of the product by showing it some love every once in a while. You can do it yourself or let us do it.